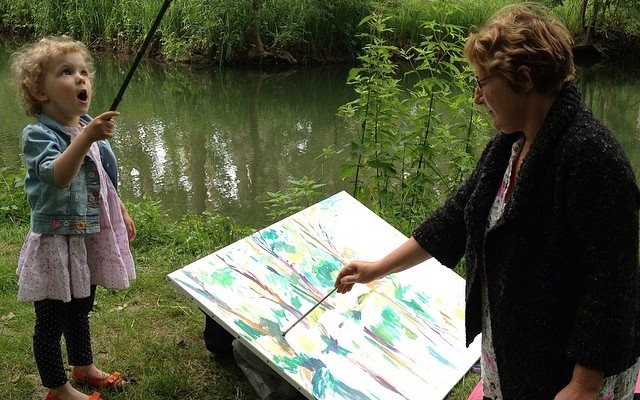 Elena Davydova, grand grand grand grand granddaughter of Joseph Bové, was born in Moscow in 1961. Her drawing and singing began since early childhood.
In 1973 she enters for the first time the art studio of Galina Rozhdestvenskaya. There, an interest in both working with a large canvas, and study of the mysterious language of painting and colour structures was born.
She studies in Moscow Architect Institute from 1978 to 1984. The strict school of academic drawing and an exciting world of architectural projects opened before Elena new creative possibilities. In her coursework she constantly tries to find unorthodox artistic solutions when working with architectural assignments.
1984 marks the beginning of her independent creativity. Elena paints, teaches art, leads a choir and takes part in several exhibitions, including Central House of Artists and Young Persons Palace.
In 1995 her first personal exhibition takes place. 100 paintings were eventually chosen from a backlog of 10 creative years to present at the show.
In the years that followed, 5 exhibitions saw more than 130 new works presented to the public. Amongst them paintings done when travelling the world, portraits of friends and family, and still life.
Elena's life is now occupied with painting and architectural projects. She currently simultaneously operates from her two favourite cities - Moscow and London.
'Garden in a garden' exhibition - London 2019
'Hortus Paradisi' exhibition - London 2017
| | |
| --- | --- |
| 1961 - | Born in Moscow |
| From 1973 - | Studies art in the studio of G.Rozhdestvenskaya |
| 1984 - | Finished Moscow Architect Institute |
| 1985 - 1999 - | Engaged in teaching art. |
| From 1999 - | Architecture and design |
| 1995 - | First personal exhibition of fine art and graphics in Izmailovo State Exhibition Halls |
| 2000 - | Exhibition "Seventy by Seventy" in Esko Gallery |
| 2000 - | Exhibition "Joy of my Soul" in Bogorodkoye State Exhibition Halls |
| 2005 - | Exhibition "Earth" in Rostokino State Exhibition Halls |
| 2007 - | Exhibition "Stations" in cultural centre "Primus Versus" |
| 2010 - | Exhibition "Music of Space" in Bogolyubov Art Library |
| 2012 - | Exhibition "Rooms" at the Frameless Gallery in Clerkenwell, London |
| 2017 - | Exhibition "Hortus Paradisi" at Zari Gallery in Fitzrovia, London |
The artist is the creator of beautiful things.
To reveal art and conceal the artist is arts aim.
O.Wilde «The picture of Dorian Gray»
Elena Davydova's paintings are a fusion of nature, poetry, music, harmony and light. Looking through her extensive catalog and varied subject matter one thing remains constant - a completely unique view of the world, an ability to see light and magic in everyday things, a truly amazing childlike perspective that actually lifts your mood and makes you happy when you view the paintings.
No matter what subject sparks Elena's imagination, whether it's a Scottish castle, English countryside, Italian landscapes or Russian churches - there is a strong sense of joy of life in every painting. You can really feel Elena's love of the world and nature, of every tree, little flower, of every God's creation. And altogether her paintings create this wonderful world of beauty and joy that is a pleasure to share.
Elena's art is a result of decades of serious academic study and many years of mastering and teaching her skill. Her technique is deliberate and well-honed. The colors are always alive and vibrant. Every painting has a dream-like quality about it, which makes them so wonderful. They also reflect Elena's spiritual side. This talented artist has lived through and suffered a lot in her life in Russia. From poverty and hardships to personal tragedies and losses. However despite these experiences or because of them she has an almost childlike sense of inner purity that her paintings convey so evidently.
And so we can now see the fruits of Elena's labour from the mid 1990's to the present day - in all their diverse glory. Elena's talent had been recognized in her native Russia and she has exhibited widely there, however she undoubtedly deserves wider recognition, it is surprising she is not as well-known as she should be, but then like her paintings she is quiet, modest and lacks any sense of self-importance and pretentiousness.
Explore Elena Davydova's beautiful paintings and enjoy their colour, magic and light.
- Hanna Brightman